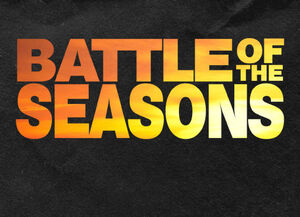 Battle of the Seasons is the 23rd season of the MTV reality game show, The Challenge. The season is directly subsequent to Battle of the Exes. It is the sequel to the show's 5th season, Battle of the Seasons, though unlike other sequel seasons is not distinguished as part "II" in subtitle. The season took place in Bodrum, Turkey and Namibia.
Former casts from select seasons of MTV's The Real World competed with the hopes of winning a piece of the $250,000 grand prize, with cast members from the Fresh Meat, Fresh Meat II and Spring Break challenges brought in prior to any challenges taking place.
The season premiered on September 19, 2012, and concluded on December 19, 2012, with The Reunion Special episode.
During each Challenge teams will compete in order to become the Power Team, who will have the ability to place one team of their Choosing into the Arena. The other couple going into the Arena will be that day's Challenge losers. Once in the Arena a team must decide one Male-Female pair to compete, and have the potential to go home with no money. The losing pair in the Arena will go home, and leave their team short two players. Teams can compete with only two players, and have potential to make a greater share of the final's $250,000.
Host: T. J. Lavin,
Male Contestants
Player
Original Season
Finish
Frank Sweeney
RW: San Diego ('11)
Winners
Zach Nichols
RW: San Diego ('11)
Dustin Zito
RW: Las Vegas (/11)
Runner-Up
Chet Cannon
RW: Brooklyn
Third Place
JD Ordoñez
RW: Brooklyn
Derek Chavez
RW: Cancun
Episode 11
Robb Schreiber
RW: St. Thomas
Episode 10
Alton Williams
RW: Las Vegas (/02)
Episode 9
Christian "CJ" Koegel
RW: Cancun
Episode 8
Ryan Knight
RW: New Orleans ('10)
Episode 7
Trey Weatherholtz
RW: St. Thomas
Episode 6
Preston Roberson-Charles
RW: New Orleans (2010)
Episode 5
Eric Banks
Fresh Meat
Episode 4/5
Brandon Nelson
Fresh Meat II
Episode 3
Danny Jamieson
RW: Austin
Episode 2
Wes Bergmann
RW: Austin
Episode 1

Female Contestants
Player
Original Season
Finish
Ashley Kelsey
RW: San Diego ('11)
Winners
Sam McGinn
RW: San Diego ('11)
Trishelle Cannatella
RW: Las Vegas ('02)
Runner-Up
Devyn Simone
RW: Brooklyn
Third Place
Sarah Rice
RW: Brooklyn
Jonna Mannion
RW: Cancun
Episode 11
Marie Roda
RW: St. Thomas
Episode 10
Nany González
RW: Las Vegas ('11)
Episode 9
Jasmine Reynaud
RW: Cancun
Episode 8
Jemmye Carroll
RW: New Orleans ('10)
Episode 7
Laura Waller
RW: St. Thomas
Episode 6
McKenzie Coburn
RW: New Orleans ('10)
Episode 5
Camila Nakagawa
Spring Break Challenge
Episode 4/5
Cara Maria Sorbello
Fresh Meat II
Episode 3
Melinda Stolp
RW: Austin
Episode 2
Lacey Buehler
RW: Austin
Episode 1
Team
Teammate

Finishes

Eliminated
Place
Team San Diego
Ashley, Frank

Sam & Zach

Winners
1st
Team Las Vegas
Dustin & Trishelle
Runner-Up
2nd
Alton & Nany
Episode 9
Team Brooklyn
Chet, Devyn,

JD & Sarah

Third Place
3rd
Team Cancun
Derek & Jonna
Episode 11
4th
CJ & Jasmine
Episode 8
Team St. Thomas
Marie & Robb
Episode 10
5th
Laura & Trey
Episode 6
Team New Orleans
Jemmye & Knight
Episode 7
6th
McKenzie & Preston
Episode 5
Team Fresh Meat
Camila & Eric
Episode 4
7th
Brandon & Cara Maria
Episode 3
Team Austin
Danny & Melinda
Episode 2
8th
Lacey & Wes
Episode 1