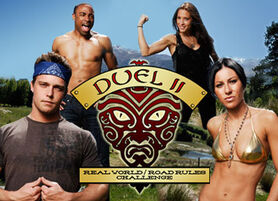 The Duel II is the 17th season of the MTV reality game show, The Challenge (though at the time, known as Real World/Road Rules Challenge). The season is directly subsequent to The Island. The Duel II is the sequel to the show's 13th season, The Duel, and succeeds The Island season. It took place in Queenstown, New Zealand,[1]with former cast members from MTV's The Real World and Road Rules competing along with several cast members from the Fresh Meat challenge.
The cast departed for Queenstown, New Zealand on October 27, 2008 and filming ran through early December. This season premiered on Wednesday, April 8, 2009 and concluded on June 17, 2009 with the reunion show.
The Duel II follows the same format as the original Duel challenge, with the following differences:
The male and female winners of each challenge are both safe from entering the Duel, and have to agree on one person (regardless of gender) to potentially save from the Duel. The first person chosen then selects a player of the opposite gender, and so forth.
The last male and female cast member that are not chosen will both compete in the Duel, select a competitor of their respective gender to go against them, and randomly select from one of five cards held by host T. J. Lavin to determine the Duel game, in which the players will compete.
Unlike the original Duel season, there is a period of deliberation between the end of the challenge and the selection of the contestants for the elimination game.
At the end of the season, there will be six contestants left — three of each gender. For each gender, there will be a first-, second- and third-place finisher. First-place will win $100,000, second-place will win $35,000 and third-place will win $15,000.
Host: T. J. Lavin
Memorable Moments
Edit
Before any challenges took place, Adam and CT were both removed from the game for fighting. MJ and Nehemiah were brought in as replacements.